Rental Car Center
Save money. Book in advance
The Rental Car Center (RCC) is a one-stop facility that houses 12 rental car brands and vehicles for ATL guests.
Operating 24 hours a day, seven days a week, the RCC is just a few minutes away from ATL via the SkyTrain, an electric-powered automated people mover system that connects the Rental Car Center to additional parking and the Airport. In addition, the International Terminal Connector provides service between the International Terminal and the Car Rental Center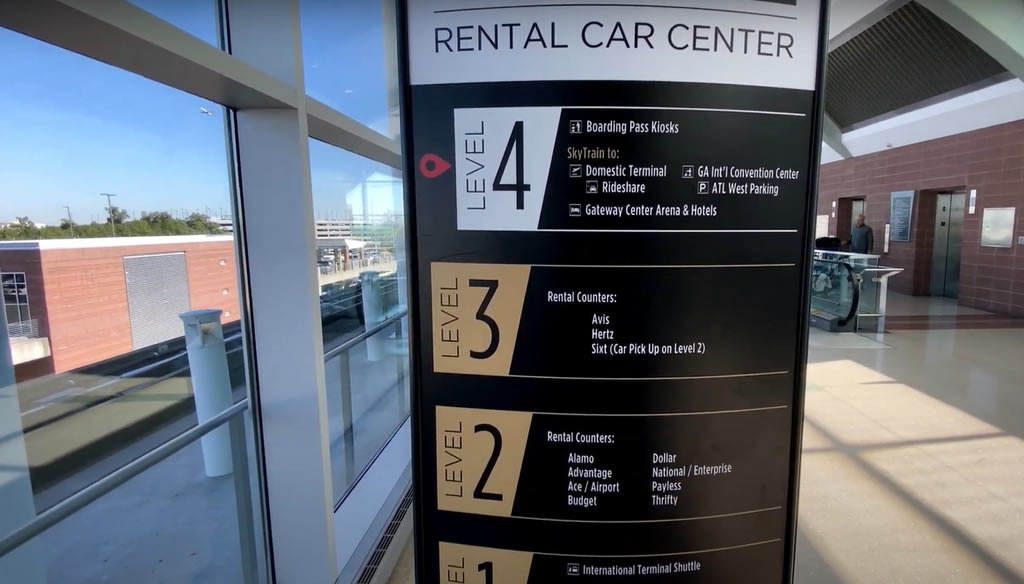 Image from Youtube
See Connection between Terminals
All the car rental companies listed below are serving at the airport. It is recommended to have a prior reservation. Look for availability HERE
Car Rental Agencies
Advantage (404) 761-4999
Airport Rent a Car (404) 209-1222
Alamo (404) 530-2800
Avis (404) 763-6333
Budget Car Rental (404) 530-3000
Dollar Rent A Car (866) 434-2226
Enterprise (404) 763-5220
Hertz (404) 530-2925
National (800) 227-7368
Payless (404) 768-2401
SIXT Rent a car (888) 749-8227
Thrifty Car Rental (877) 283-0898
Off-Airport
The follows, are located off-site--a few miles from the Airport. For more information, contact the rental car agency direct
Atlanta Rent-A-Car (404) 763-1110
EZ Rent a Car (404) 761-4999
What to keep in mind
Although the Atlanta area has efficient public transportation, like any metropolitan area in the United States it has significant distances. Thus, if you are not a resident of the Atlanta area, having a vehicle can be comfortable and practical.
Despite this, you should bear in mind that in certain time slots and mainly on the access highways to the city and on the main arteries, traffic or the availability of parking, at certain hours, can bring complications. Therefore, avoid rush hours.
In addition to having a valid license, and taking out insurance against all risks, if you are a foreigner, you should know that the authorities in the United States are very strict when it comes to enforcing traffic regulations. The penalties are usually very harsh. Respect the speed limits, the use of seat belts and lights, the traffic lights and do not drink alcohol if you are going to drive.