Parking areas
Domestic Terminal
Hourly parking (short-term)
The hourly north and south parking lots, which are closest to the entrance of each terminal, are ideal for picking up or dropping off people at the airport.
Daily parking (covered):
This 4-level overnight parking area is located directly in front of each terminal.
Economy parking:
The north and south are next to the parking platforms.
ATL West Parking:
Located at 4199 Skytrain Way, College Park, GA 30337.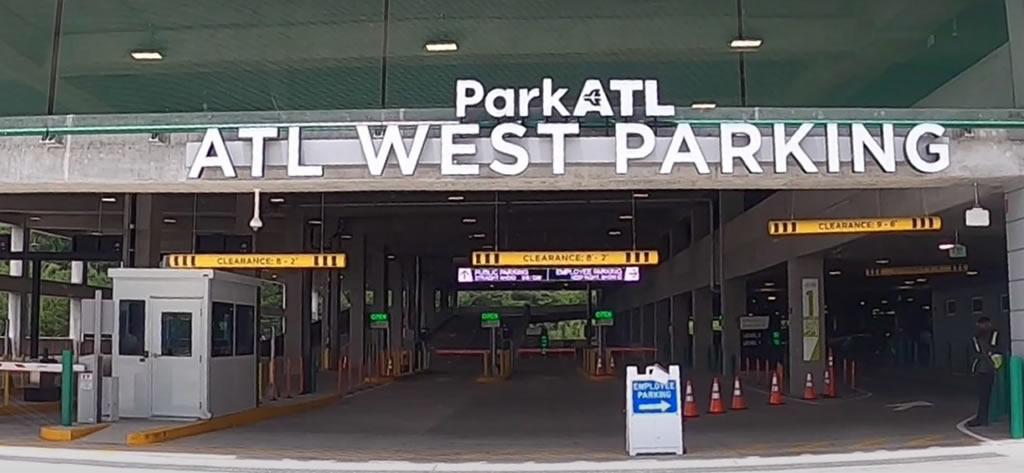 Image from Youtube
ATL Select:
Located at 1800 Sullivan Rd. College Park, GA 30337.
Uncovered
Covered
Large vehicles
International Terminal
International Hourly:
The International Hourly lot, just steps from check-in and arrivals, contains over 1,100 parking spaces. The international hourly parking deck has 14 enclosed parking spaces for alternative fuel vehicles and 14 parking spaces for vans and shared vehicles. From Maynard H. Jackson Jr. Boulevard, follow signs to hourly parking.
International Park Ride (covered):
The International Park Ride facility at Maynard H. Jackson, Jr Boulevard, west of Loop Road, offers 2,400 parking spaces. There is a bus service that travels in three minutes to the departures level of the international terminal and picks up passengers from the arrivals level upon their return. The free shuttle service is available 24 hours a day. 
NOTE: In all sectors there is a charge for a lost ticket equivalent to the maximum daily rate plus the duration of the stay.
On the other hand, there are parking services outside the airport grounds. Although they are more remote lots, they have their own transfer service to the terminals and the rates are usually lower. Some of the companies that provide this service are:
Fast Park & Relax (PCOA) tel 404-530-6725
Park 'N Fly Atlanta tel 404-364-8128
Park 'N Go tel 404-364-8110
Fast Track Airport Parking dba LAZ Parking tel 404-559-4475
Park 'N Fly Plus (Camp Creek Partners) tel 404-364-8110
Park 'N Ticket tel 404-669-3800
Payment methods
When leaving, you can use the foot payment machines located in the terminal and the parking areas or you can pay at the automatic machines in the exit spaces. All major credit cards and cash payments are accepted at the payment machines on foot and at the point of departure.