Connection between Terminals - ATL airport
Pre Security Zone
To move in the public area of ​​the Atlanta airport between the domestic and international terminals (without going through security control) you can use the airport shuttle service.
If you are arriving from the MARTA station or from other entry points on the west side of the Domestic Terminal, you must enter the South Terminal baggage claim area through gate W2. From here, you can follow the signs to the Land Transport, where you can take the shuttle bus (Terminal Connector Shuttle) to go to the International Terminal.
On the other hand, if your airline allows you to check in for your international flight from the domestic terminal, you can take the Plane Train directly to the international terminal at Concourse F.
From the International Terminal, you can pick up the shuttle bus from the north of the terminal through gates A1, A2 or A3. The bus ride between the terminals takes about 15 minutes.
In addition, the International Terminal Connector provides service between the International Terminal and the Car Rental Center and runs approximately every 15 minutes. You can take the shuttle bus from the north of the terminal via the A1, A2 or A3 gates.
SkyTrain
The SkyTrain moves between the Domestic Terminal Complex, West Parking Deck, Gateway Center and the Rental Car Center. It is a round trip of ten minutes, with a waiting time of 3 minutes at the stations during the day and 10 minutes at night. It works 24 hours.
The Rental Car Center is the most popular stop, with a train travel time of about five minutes from the domestic terminal, since even if you are not a passenger arriving at the airport, you can use the SkyTrain to get to the rental car center. automobiles.
Otherwise, use the Gateway Center stop to get to the Georgia International Convention Center and hotels located in the vicinity of the airport: Marriott Gateway Hotel, Renaissance Atlanta Airport Gateway Hotel, and SpringHill Suites Gateway Hotel.
Post Security Zone
The Plane Train, located on Level 0, is one of the easiest ways to get around the post-security (boarding) areas of the terminals and lobbies for free. It is an automated subway train (people mover) that runs a 3-mile circuit between the National Terminal (baggage claim) and Concourse F (International Terminal) and stops in concourses T, A, B, C, D and E in the path.
A countdown timer alerts passengers to the arrival of the next Plane Train and there are automatic announcements and maps on board. It operates 24 hours a day and leaves every 2 minutes.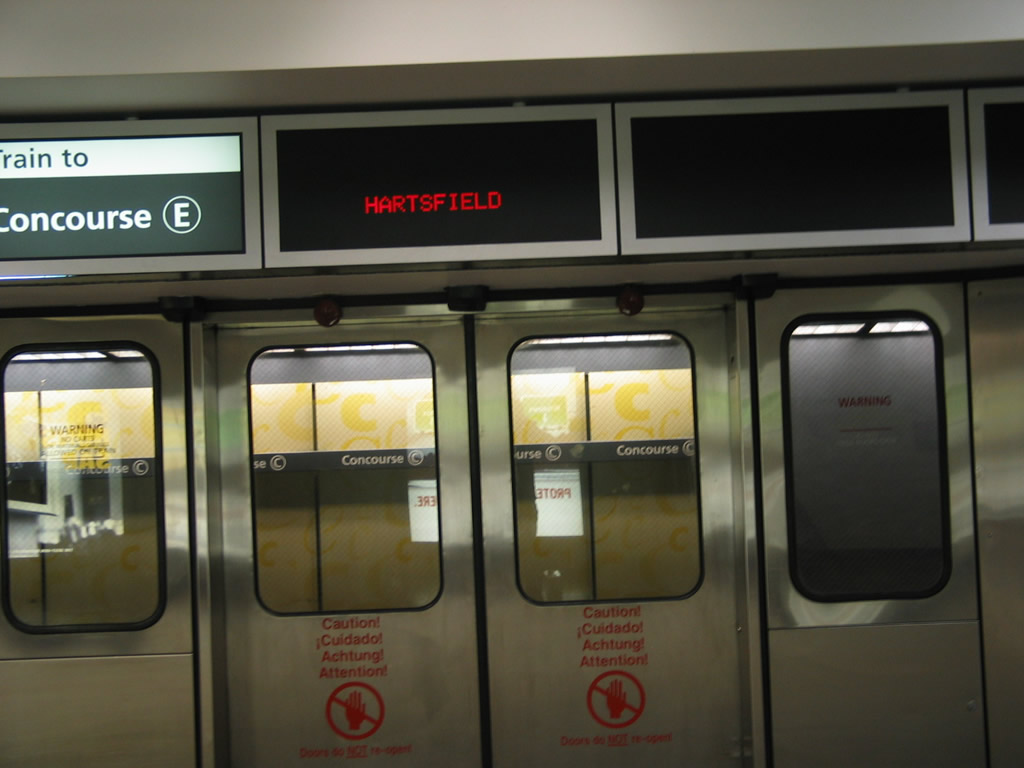 Photo by Lac - freeImage